Dear Friends of LULAC,

I invite you to join us in Cincinnati, Ohio, as the members of the largest and oldest Hispanic organization gather to address critical issues impacting our community and our country. With the theme Bridging the Gap: Expanding the Latino Agenda Into New Frontiers, our historic 82nd Annual Convention and Exposition will take place from June 27 through July 2, 2011.

As the nation's premier Latino gathering, our convention attracts more than 20,000 participants including top government, business, labor and community leaders for a week fi lled with renowned speakers, important seminars, celebrities and exciting entertainment.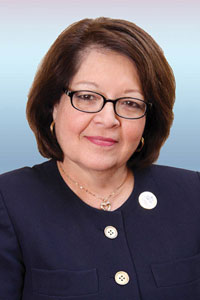 The 82nd annual convention takes place in the greater Cincinnati metropolitan area which is now home to 125,000 Latinos—one of the fastest-growing Hispanic communities in the nation. This emerging Latino community is re-defi ning the social, demographic and cultural landscape of Cincinnati and it creates the ideal context for the LULAC National Convention to open dialogue and forge partnerships. You can expect to hear from Presidential candidates, members of Congress, cabinet secretaries, local elected offi cials, academic experts, and respected business and community leaders.

Excitement will build during the convention, as the LULAC delegates prepare to elect our national leadership and establish our policy priorities. Seminars and workshops will feature expert panelists addressing the issues that affect our communities most, from immigration reform and education to health care and civil rights. Separate tracks for Youth and Young Adults provide our emerging leaders with workshops on community service, leadership development, career opportunities and advocacy training.

The 2011 LULAC Expo will feature 300 corporate partners, government agencies, colleges and universities, labor unions, armed forces, and non-profi t organizations displaying their products and services while recruiting Latino employees at the LULAC Career Fair. Families will not want to miss the excellent free entertainment provided at the LULAC stage, free screenings at the health fair, Consulados Móviles and the NFL's Play 60 experience. In addition, the LULAC Convention hosts the Federal Training Institute—an intensive and structured career development program for government employees.

The LULAC National Convention will feature some exciting venues that refl ect the unique city of Cincinnati including the Duke Energy Convention Center where most events will take place, Fountain Square in the heart of downtown, the Freedom Center, and the Great American Ballpark, home of the Cincinnati Reds. With steamboats on the Ohio River, museums and exciting attractions, Cincinnati is an ideal place to bring the entire family. Please join LULAC at the 2011 LULAC National Convention and Exposition as we celebrate 82 years of service to the Hispanic community.

Sincerely,

Margaret Moran
LULAC National President.