President's Message
Dear Friends of LULAC,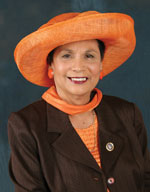 The League of United Latin American Citizens invites you to participate in the 78th Annual LULAC National Convention and Exposition, Empowering Latinos: Building Prosperity through Partnerships, from July 9 through July 14, 2007 at the Historic Navy Pier in Chicago, Illinois. As the most exciting event in the Hispanic community, the LULAC National Convention draws over 15,000 participants including top government, business, labor and community leaders for a week filled with celebrity speakers, important seminars and top-notch entertainment.
Our 78th annual convention presents LULAC with the unique opportunity to address issues of critical importance to our community in the third largest Hispanic market in America with over 1.8 million Latino residents. You can expect to hear from Presidential candidates, members of Congress, cabinet secretaries, local elected officials, academic experts, and respected business and community leaders.
Excitement will build during the convention, as the LULAC delegates prepare to elect our national leadership and establish our policy priorities. Seminars and workshops will feature expert panelists addressing the issues that affect our communities the most, from immigration reform and education to women's health and civil rights. The LULAC Youth and Young Adults will conduct their own workshops and also elect their leadership.
The 2007 LULAC Expo will be one of our largest ever, featuring over 400 corporate partners, government agencies, colleges and universities, labor unions and non-profit organizations displaying their products and services while recruiting Latino employees at the LULAC career fair.
In addition, the LULAC Convention also hosts the Federal Training Institute—an intensive and structured career development program for government and public sector employees.
And it will all take place at Chicago's most popular community destination, the Navy Pier, which attracts more than 8.6 million visitors a year. Featuring a historic ballroom with breathtaking views of Lake Michigan and Festival Hall with over 200,000 square feet of meeting space, the Navy Pier is the perfect venue for the LULAC National Convention. From rides to restaurants, exhibitions to entertainment, shopping to dining cruises and tour boats, the Navy Pier has plenty of options for your entire family.
I personally look forward to hosting you in the Windy City as Latinos take center stage in what promises to be our most successful convention ever!
Sincerely,
Rosa Rosales
LULAC National President