Cultivating Talent for Tomorrow
We invite you – and all high school and college/university students that you serve – to attend this dynamic and informative event at no cost with lunch included (RSVPs are mandatory for catering purposes).

As Latino youth struggle to complete high school and college, LULAC recognizes the profound impact that administrators, guidance counselors, and other staff have on the lives of these students. This symposium empowers all attendees with information about diverse opportunities that exist within the federal government. Throughout the day, participants will interact with representatives from different federal agencies who will provide guidance regarding scholarships, internships and employment opportunities for current high school, college, and graduate students, as well as recent graduates who are seeking employment.

In addition to this one-day event, the 2012 LULAC National Convention is expected to draw over 20,000 attendees throughout the week. We encourage you to mark your calendars for June 27-June 29 and attend the free events open to the general public, including policy workshops with expert panelists, a job fair, a fun and family-friendly expo hall, and a concert taking place on Saturday night. Entrance to the concert is free, but all guests must pick up a ticket on-site at the expo hall before Saturday.

With all this and more, our national convention packs more energy than any other event in the Latino community! For more information, please contact Sara Clemente, LULAC National Director of Federal Affairs, at (202) 833-6130 or at SClemente@LULAC.org.

Thank you for your consideration and we'll see you in Orlando!

Sincerely,

Margaret Moran
National President
League of United Latin American Citizens


Event Details
WHAT: Exclusive Orlando-area Youth and Collegiate Federal Career Symposium

WHEN: Friday, June 29, 2012 from 8:30am – 4:00 pm

COST: This event is FREE and includes lunch. RSVPs are mandatory for catering purposes

WHERE: Disney Coronado Springs Resort, Orlando, FL.
Online RSVPs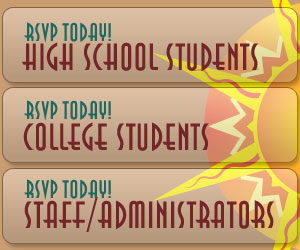 Registration Kits (PDF format)
---
For more information, please contact Sara Clemente, LULAC Director of Federal Affairs at SClemente@LULAC.org or by phone at 202-833-6130.