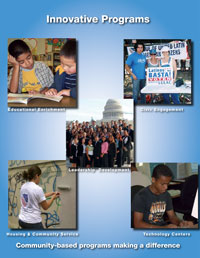 INVESTMENT MENU 2008
LULAC Leadership Initiative: The LULAC Leadership Initiative is an ambitious project to revitalize Hispanic neighborhoods from within by creating a nationwide network of innovative grass roots service programs in over 500 Hispanic communities served by LULAC Councils. The project will identify best practices, publish a model program guide, and provide organization and training through ten regional offices. Total yearly budget: $4,000,000.
LULAC Convention: The annual LULAC National Convention convenes the LULAC membership in a week long event consisting of workshops, exhibits, banquets, the election of LULAC's national officers, and a general assembly to set the organization's priorities and establish its positions on issues of critical concern to the Hispanic community. Topics at the convention include education, women's issues, employment, federal workshops, leadership, health, small business development, and corporate relations. Total yearly budget: $2,000,000.
LULAC National Legislative Awards Gala: The LULAC National Legislative Awards Gala brings together members of the U.S. Congress, the LULAC membership, business leaders, and community activists in Washington, D.C. during February or March. This formal banquet highlights national policy issues that are having an impact on the Hispanic community. Total yearly budget: $500,000.
LULAC Technology Centers: This network of 56 community technology centers provides free high speed internet access and computer-related training to students, parents, and low income individuals. The emphasis is to empower those without access to the internet by providing that access and training them on using computers and the internet to do their school work, college and financial aid searches, job training, job-searches, and managing their money. Total yearly budget: $1,000,000.
LULAC Youth Leadership: This leadership development program for at-risk youth encourages participants to conduct community service projects, meet with positive role models and explore alternatives to violence and crime. Total yearly budget: $200,000.
LULAC Credit Smart Project: This project provides training to Hispanic consumers about how to manage their finances and make prudent purchasing decisions. The project develops model training programs for helping members of the fastest growing consumer market to make wise financial decisions. Total yearly budget: $100,000.
LULAC NEWS: LULAC publishes a semi-monthly magazine to keep the LULAC membership informed of the organization's activities and to highlight the successes of the organization. In addition, the LULAC NEWS carries national and regional information about issues of importance to the Hispanic community. The magazine is mailed to all LULAC members and to other influential individuals. The cost of production is financed through advertisements placed in the publication. Total yearly budget: $150,000.
Immigration & Citizenship: The immigration and citizenship program assists individuals applying for US citizenship to complete their applications and to place them in citizenship classes. The program utilizes an 800 number for interested individuals to call for assistance and referral. The program also works closely with LULAC councils throughout the country to provide outreach to the immigrant community and set up citizenship and English classes when needed. Total yearly budget: $250,000.
Voter Education & Registration Project: LULAC's national voter education and registration campaign increases Hispanic participation in the democratic process by engaging local councils in registering voters and educating voters about important issues. Total yearly budget $350,000.
LULAC Health Commission: The LULAC Health Commission advocates for policies and legislation, training, and public health education programs that improve the physical, behavioral, and mental health and well-being of Hispanics in the United States and Puerto Rico. The commission focuses its attention on health issues that affect Hispanics in higher percentages than the general population including insurance, prescription drugs, diabetes, heart disease, cancer, asthma, and AIDS. Total yearly budget: $150,000.
Housing Commission: The National LULAC Housing Commission raises the level of understanding and awareness regarding housing issues. The commission promotes home ownership among Hispanic Americans and advocates for more responsive housing legislation and regulations with the regard to the Hispanic community. Total yearly budget: $850,000.
Civil Rights Conference: The National LULAC Civil Rights conference raises the level of understanding and awareness regarding civil rights issues in education, housing, immigration, voting rights, employment, contracting, and lending opportunities. The LULAC Civil Rights commission hosts an annual civil rights symposium which convenes LULAC members, Hispanic activists, scholars, community members, government representatives and corporate representatives to develop strategies that advance the civil rights of the Hispanic Americans. Total yearly budget: $250,000.
Women's Conference: The LULAC Women's conference brings together women from across the country to develop leadership and employment programs for Hispanic women. The conference features workshops on conducting a job search, opportunities in higher education, advocacy training and Hispanic women's health issues. The total cost is $250,000.
LULAC Education Summit: The National LULAC Education Commission develops strategies and programs that meets the educational needs of the Hispanic community. The education commission conducts an annual education summit that brings together representatives from grass roots organizations, State Hispanic Commissioners, presidents of national Hispanic organizations, educational program experts, corporate representatives, and students to develop strategies that guide the efforts of LULAC, other participating organizations and state governments in addressing the educational needs of the Hispanic community. Total yearly budget: $250,000.
National Office—Washington, DC: LULAC has established a permanent national office in Washington, D.C. with a full time staff. This office coordinates implementation of LULAC's programs, impacts policy and legislation at the national level, and handles the day to day administration of the national organization. The staff also compiles issue briefs to keep the LULAC membership informed of important national legislative and policy initiatives. Total yearly budget: $1,784,620.
Executive Office—San Antonio, TX: The LULAC Executive Office houses the LULAC National President and staff. This office coordinates the National President's agenda, handles meetings, and coordinates LULAC activities. Total yearly budget: $785,000.
LULAC State Offices—Austin, TX; Sacramento, CA: The LULAC state offices advocate for the Hispanic community at the state level and handle constituency requests within the state. Total yearly budget: $250,000 each.

LNESC Programs
Educational Centers: The LULAC National Educational Service Centers fifteen-site network of counseling centers assists eligible youth to continue in and graduate from high schools and enroll in institutions of higher learning. On an annual basis, LNESC enrolls over 16,000 youth into its comprehensive educational programs and provides assistance to approximately 5% of all Hispanic students enrolling in college. Total yearly budget: $3 million. Per center start-up cost: $250,000.
LULAC National Scholarship Fund: Managed and administered by LNESC, this scholarship program recognizes and rewards student achievement in the Hispanic community by awarding more than half a million in scholarships each year. The program matches funds raised locally by LULAC councils with those of LNESC's corporate contributors to increase the impact of the scholarships. In 2004, 75 LULAC councils, representing 51 cities in 15 states, and 18 national corporations participated in the LNSF effort. Over the past 26 years, over $13 million dollars has been awarded to almost 25,000 students. Total yearly budget: $1,000,000.
Hispanic Leadership Opportunity Program: The LNESC Hispanic Leadership Opportunity Program develops the leadership skills of Hispanic youth through the observation and analysis of social, economic, and political issues and the leaders who deal with those issues. In addition, the program engages the participants in a leadership project within their own community. The program currently operates in the following 8 cities Albuquerque, Chicago, Corpus Christi, Houston, Kansas City, Pueblo, Pomona and Wichita. Total yearly budget: $200,000. Per site cost: $12,000.
LULAC Washington Youth Leadership Seminar: Administered by LNESC, the LULAC Washington Youth Leadership Seminar is designed to provide students with an understanding of how our government works and to explore the current issues we face as a nation. Each October, 50-55 outstanding Hispanic high school juniors and seniors are selected to attend a three-day educational seminar in Washington, D.C. The seminar includes meetings with senators and congressional representatives, White House officials, corporate executives and other Washington professionals, and a tour of the city. Total yearly budget: $52,000.
Young Readers: The Young Readers program encourages children to make reading a life-long habit. Thirty first, second and third graders meet weekly for six weeks during the summer with a reading teacher in a program designed to make reading fun. Reading sessions are enhanced by trips to the movie theater, the museum and the newspaper printing press. Games, treats and prizes help turn an educational experience into a fun summertime activity kids look forward to week after week. LNESC will implement the Young Readers program in 20 cities in 2004. Total yearly budget: $100,000. Per site cost: $10,000.
Science Corps: The Science Corps program is designed to encourage Hispanic middle school students to increase their interest in the fields of mathematics and science. Twenty middle school students meet weekly during the school year with a science facilitator who involves them in entertaining science oriented activities, takes them on field trips to interesting places where they can see science in action, and exposes them to role models in scientific fields. Each month has one of the branches of science as its theme. In addition, the science facilitator helps the students to sponsor science related events at their school. LNESC will implement the Science Corps program in 20 cities in 2004. Total yearly budget: $200,000. Per site cost: $15,000.