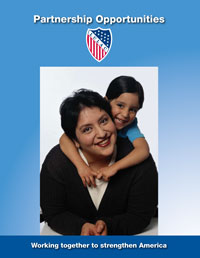 2008 LULAC PARTNER PROGRAM
LULAC is offering a partnership program designed to highlight and recognize its strongest corporate partners. The LULAC Partner Program 2008 provides a package of sponsorships for LULACís premiere events and programs at a considerable savings and with additional value-added opportunities not available to other sponsors. By becoming a Platinum, Gold, or Silver Partner, your company can receive year-round recognition for its support of LULAC activities with one convenient contribution. The 2008 LULAC Partner Program includes the following sponsorships:
LULAC National Convention & Exposition: One of the premier Hispanic conventions held in the United States, the LULAC National Convention draws over 10,000 people each year including the top leaders from government, business, and the Hispanic community. The partner program includes three levels of convention sponsorship, which are detailed in our convention information package.
LULAC Legislative Friendship Awards Gala: The LULAC Legislative Friendship Awards Gala highlights critical legislative issues affecting Hispanic Americans and recognizes key leaders who have served the Hispanic community well. The partner program includes four levels of gala sponsorship, which are detailed in our gala information package.
LULAC News: LULAC publishes a semi-monthly magazine to keep the LULAC membership informed of the organizationís activities and national and regional information about issues of importance to the Hispanic community. The partner program includes two ad packages, which are detailed on the LULAC News 2008 rate card.
LULAC Corporate Alliance: The LULAC Corporate Alliance fosters partnerships between corporations, the Hispanic community and LULAC. The Alliance promotes economic development initiatives as well as provides advice and assistance to the LULAC organization. Corporations participating in the Alliance work with LULAC in developing national and community-based programs to address the needs of the Hispanic community and work toward ensuring that the nationís future workforce obtains the necessary education and skills to keep America productive.
LULAC Universal Partner Badge: New this year, the LULAC Universal Partner Badge is a custom made name badge that will admit the bearer to any LULAC National event free of charge throughout the year. Available in platinum, gold, or silver, the partner badge is exclusive to LULAC Partners and ensures VIP treatment at LULAC events and by LULAC members nationwide.
LULAC Web Link: LULAC Partners will have their companyís web site linked highlighted on LULACís web site through an interactive link that features the partnerís company logos grouped by partner level.
Partner Reception: LULAC Partners are invited to a reception with the LULAC National Board and LULAC life members to take place on Thursday evening of the LULAC National Convention. This reception provides LULAC Partners with the opportunity to network with LULAC's top leadership.
Partner Plaque: LULAC partners will be prominently displayed on a plaque at the LULAC National Office for all visitors to view.