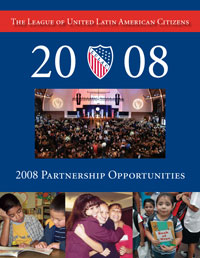 Seventy-nine years ago, the founders of the League of United Latin American Citizens created what would become the largest Hispanic civil rights and service organization in the United States. Since our founding, LULAC has developed a tremendous track record of success advancing the economic condition, educational attainment, housing, political influence, health and civil rights of Hispanic Americans.
On behalf of our membership, I invite you to partner with LULAC in 2008 and help us address the needs of the fastest growing population in the United States. LULAC offers sponsorship opportunities with our award-winning programs in education, economic empowerment, technology, health, immigration, housing and consumer education operating at more than 600 locations across the country.
I especially encourage you to consider participating in our 2008 national events. The LULAC National Legislative Awards Gala and Policy Briefing will take place on March 5, 2008 in Washington, DC; our National Womenís Conference in San Antonio, TX from March 14 to 15, 2008; and the LULAC National Convention will take place in Washington, DC from July 7 to 12, 2008. These exciting events highlight key issues impacting the Hispanic community and will give you the opportunity to network with LULACís grassroots membership. Best of all, proceeds from these events are used to fund our program initiatives.
In addition, I am proud to announce the formation of the LULAC National Building Fund to help LULAC acquire our first national headquarters in Washington, DC. The purchase of the 10th floor office condominium at 1430 K Street, NW will provide LULAC with enough space to double its national staff, strengthen its ability to deliver model programs throughout the country, and engage Hispanic Americans in the legislative discussions that will affect their future. There are multiple ways for you to get involved in our building fund campaign, including naming opportunities and seven levels of giving that can be spread out over several years.
For more information about these exciting opportunities to partner with LULAC, please contact Brent Wilkes, National Executive Director, at (202) 833-6130.
I look forward to visiting with you soon.
Sincerely,

Rosa Rosales
LULAC National President